Green Party announces David Francis as candidate for South Shields constituency at the next General Election 
South Tyneside Green Party
13th November 2023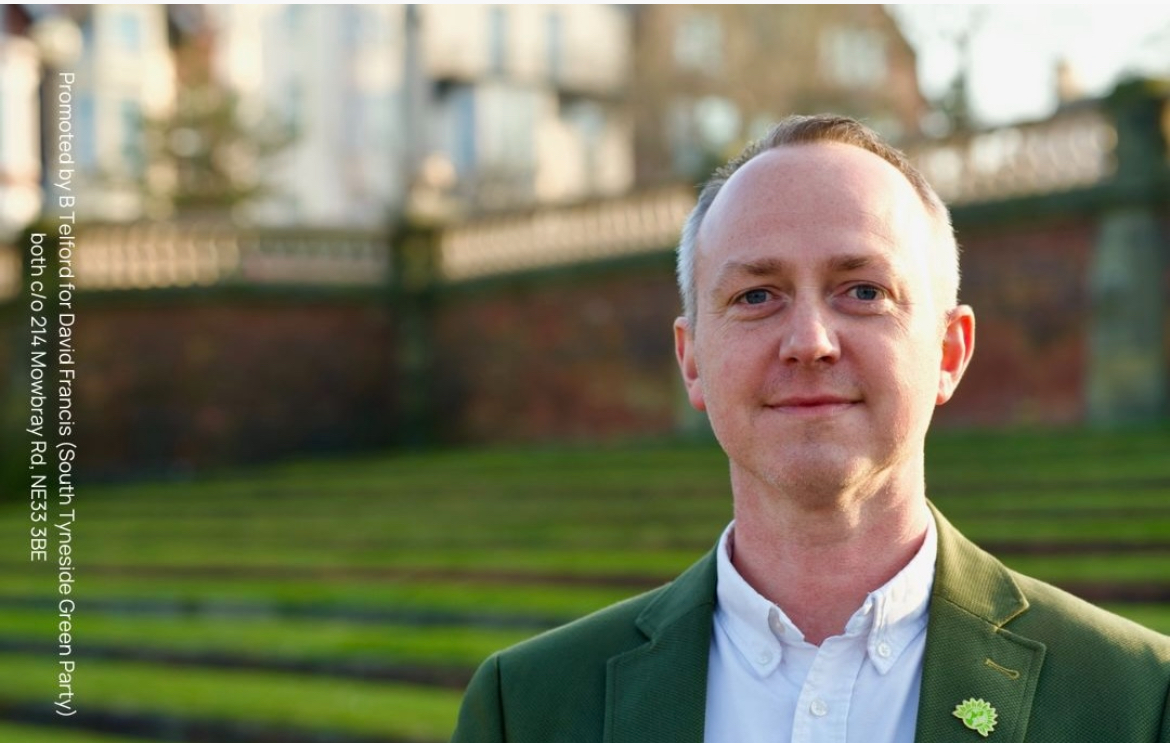 The Green Party today announced their candidate for the South Shields constituency at the coming General Election. They have selected South Shields councillor, David Francis.
David made history as the first Green Party councillor elected to South Tyneside Council in 2019 and was recently re-elected for a second term as councillor for Beacon and Bents ward. He is current Leader of the Opposition on South Tyneside Council and leader of the Green Group of 9 elected councillors.
David said, "I am honoured to have been chosen as the Green Party's candidate for South Shields. In recent years, more and more people have realised that far from being just about the environment, the Green Party stands for a way of doing politics totally differently. For pragmatic, proven policies that can transform our area and our country – that Green politicians are different and can be trusted to have the integrity people expect – unlike the other stale parties.
"I have a proven track record of getting things done and speaking out for the people I represent. I work hard for residents all year round, not just at election time. I am free to speak up in Westminster for South Shields because I'm not told how to vote.
"It's clear for everyone to see that our country is in a total mess: politics as usual hasn't worked – we need a new, fresh  approach. That's why the Green Party has grown so rapidly and is on course to get even more Greens MP's elected at the next General Election.
We've seen a surge in Green Party representatives elected across South Tyneside too. In South Shields alone, more voters than ever before voted Green at the last local election. Local people here know that Greens work hard all year round, listening and engaging with them. Supporting them on the issues that matter to them, from protecting local services and community provision to fighting to save precious green spaces – challenging poor decisions made by the Labour-run council and offering common sense, practical alternatives that put local people and our area above party politics. I will bring that same integrity and strong voice for you in Parliament. 
Only the Green Party has a credible plan to sort out the major problems we face here, from our broken democracy to the climate and ecological emergencies.
Tackling the cost of living crisis also means rapid action to tackle the climate emergency, and both of these things connect to building a fairer, greener future.